Our chefs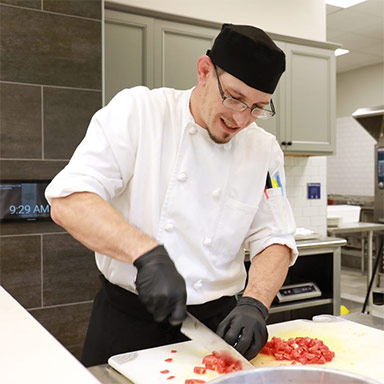 Nick Armstrong - Sous Chef
Sous Chef - Indiana Memorial Union
Nick has been cooking in professional kitchens for the past 24 years. He has been part of the IU culinary team for 15 years, first cooking in the catering department ,and then leading the Tudor room at the Indiana memorial union . He fell in love with Bloomington as soon as first arrived due to the wonderful sense of community found throughout Bloomington and the IU campus. He spends his free time teaching martial arts and helping out at the local community kitchen.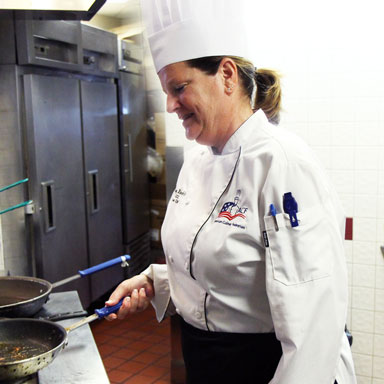 Chef Amy Blaisdell - Sous Chef
ACF Certified Chef de Cuisine; AllerTrain Certified; ServSafe Certified Chef; Instructor/Proctor; Sous Chef – Wright Eatery
Amy has been in the food industry for 37 years. One of her favorite things to do in the kitchen is when she's developing new recipes. Because she's a mood eater, her favorite meals change on a daily basis. When it comes to fresh, healthy meal options, she believes in the importance of being creative and encourages customers to check out all IU dining locations to build their perfect meal.
Amy loves sprinkling a variety of foods all over the house when entertaining, which allows her guests to seek out and find a multitude of options to graze upon. She also loves visiting different cities, states, and countries to try different foods and beverages.
Chef Carrie Decker - Sous Chef
ACF Certified Chef de Cuisine; Sous Chef – Forest Eatery
Carrie prides herself on her organizational and people skills and understands the importance of having both an organized kitchen combined with a trained staff to run an efficient operation. Her favorite meal at Forest Eatery is the Rock Around the Clock burger. However, Carrie believes in the consumption of fresh vegetables, which are available at Caliente, Romaine, and The Clubhouse. She points out that The Stone Grill sells a "Rock Garden" veggie burger, which they serve on vegan Hoosier oat bread. When Carrie isn't working, she spends time with animals as she is an avid animal lover.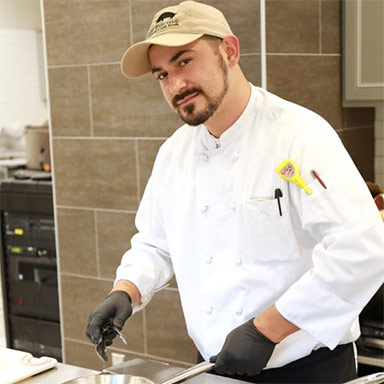 Sean Dominguez - Sous Chef
Sous Chef - Indiana Memorial Union
Sean loves the challenge of cooking in high volumes for customers who appreciate great flavors and quality food. Sean started his career in the kitchen close to a decade ago , and has had the pleasure of cooking on both the east and west coast. Landing him in the Midwest in 2016, Sean began working for IU Catering in the Pastry Department to learn another aspect of the culinary field. As a Los Angeles native and son of a Mexican immigrants Sean fell in Love with the flavors of the southwest, and credits a lot of his flavor preferences to northern Mexican cuisine.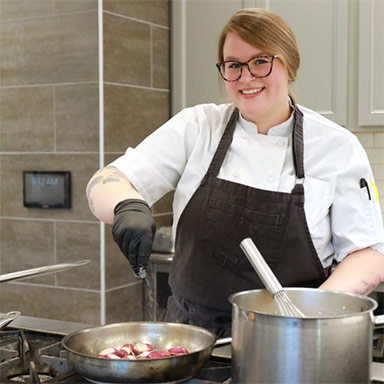 Sara Harris - Sous Chef
Sous Chef - IU Catering
Sara worked in her first restaurant kitchen when she was 15. She continued working in food service and completed her studies in the hospitatility industry. She has worked in hotels, restaurants, and then catering. Jack Henniger - Chef de Cuisine
Chef de Cuisine
Jack has strong connections to Indiana as he has been married to a Hoosier for 15 years. His brother is also a proud IU music school grad. Born and raised in Oregon, Jack attended the University of Oregon with aspirations of becoming a food writer. After graduating with a journalism degree, he preferred cooking over writing. He later received training from the New England Culinary Institute, where he cooked his way from Bar Harbor, Maine, to Martha's Vineyard, and even Boston.

Jack returned home where he spent 13 years as the Bridgeport Brewpub & Baker Executive Chef. He then worked as a research and development chef for a specialty food company in the greater northwest region before moving to Indiana.

Jack is a passionate chowder maker, sausage grinder, butcher, and Hatch green chile lover. With 20+ years of experience, he brings a playful approach to modern classic and regional cuisine and is very excited to start cooking at IU.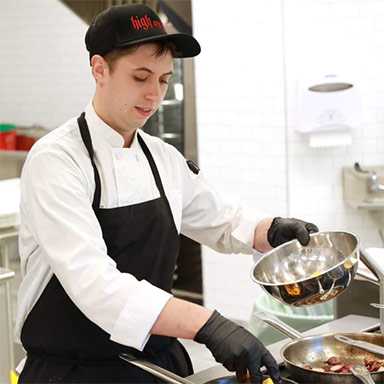 Ethan Luthin - Sous Chef
Sous Chef - Goodbody Eatery
Ethan is from a college town in Maine where he completed a BA in History and fell in love with cooking while working at The Bear Brew Pub and under Chef Griffith Kellogg catering private events, and weddings. He developed a passion for the culinary arts while working with Chef Kellogg and continued to work at The Bear Brew Pub until it closed in May of 2018 but stayed on to open The Commonloon Public House in the same location. The Common Loon Public House took American Pub fare and added British Isles and International flare to its menu. Ethan moved to Bloomington in the fall of 2018 and worked his way up to Sous Chef at FARMbloomington where he worked to develop his repertoire and skills further. Despite not being classically trained Ethan has a passion to learn and teach others about food, flavors, and when applicable the history behind them.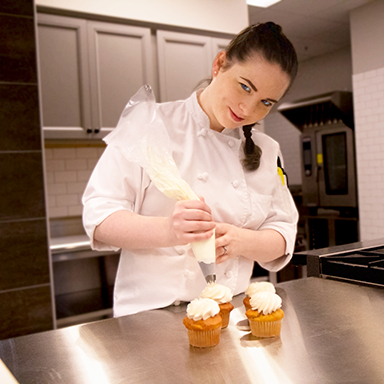 Chef Ashley Massie - Chef de Cuisine
BACHELOR OF SCIENCE—BAKING AND PASTRY ARTS; CHEF DE CUISINE PASTRY; CERTIFICATE—DCT UNIVERSITY CENTER (SWITZERLAND); BAKING AND PASTRY CERTIFICATE; CERTIFIED SERVSAFE FOOD MANAGER; SERVSAFE PROCTER; ACF CERTIFIED WORKING PASTRY CHEF
Ashley graduated high school at 16 years of age before going on to graduate magna cum laude from culinary school, ultimately continuing her culinary studies in Switzerland. Ashley has been a chef at the IMU since 2015 where she supports retail outlets—including the Sugar and Spice Bakery—while overseeing the production of all IU Catering confections. Ashley thoroughly enjoys supervising the annual Gingerbread House Workshops. Ashley's favorite snacks are Sugar and Spice's Special K Chewy and their French macarons.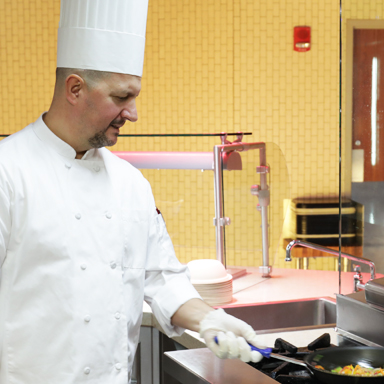 Chef Ermez Rrashti - Sous Chef
ACF CERTIFIED EXECUTIVE CHEF; CERTIFIED CHEF DE CUISINE; SAVSAFE CERTIFIED
Ermez is originally from Albania and recently moved to Bloomington after being in Cleveland, Ohio for 20 years. He has over 20 years of cooking experience and a diverse culinary career that encompasses experience with Casinos, high volume catering and banquet service, fine dining, and restaurant management. He is known for developing flavorful meals that are well balanced and appetizingly presented. During his free time, Ermez enjoys baking sourdough breads, watching sports and traveling.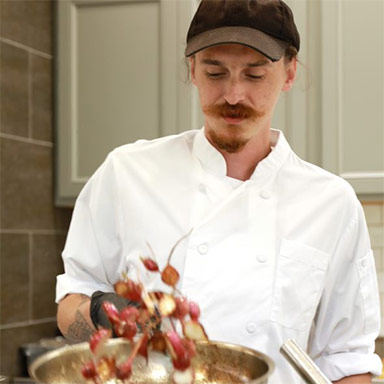 Colin Spradling - Sous Chef
Sous Chef - Bookmarket Eatery
Colin was born and raised in Bloomington. He has over 15 years of culinary experience. He has worked in many restaurants around Bloomington including commissary kitchens and catering for multiple restaurants, which has given him diverse knowledge through culinary and management experiences. He enjoys working and learning to cook with new ingredients and am very team oriented. He also takes pride in teaching those around him culinary skills he has picked up along the way.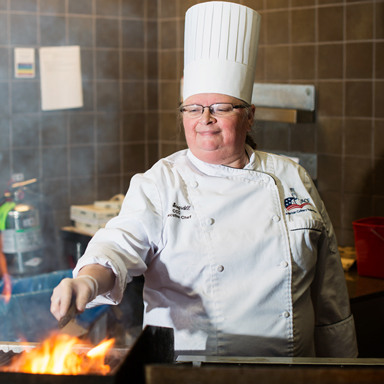 Chef Pat Stogsdill - Administrative Chef
Administrative Chef; American Culinary Federation Certified Chef—1997; Sous Chef – Bookmarket and Goodbody Eateries
Pat began her career at a vocational school and has been at IU for 32 years. Her first love is to cook. She is no stranger to the kitchen as her duties have ranged from mopping floors to managing and planning catering events. Her real joy comes from making people happy and has made it a personal goal to teach and train others using what she's learned through her own culinary experience.  Stogsdill stresses the importance of letting the dining staff prepare a dish customized to meet a customer's taste buds. She encourages guests to explore all available options at more than one location. Lastly, she welcomes customer feedback–both negative and positive.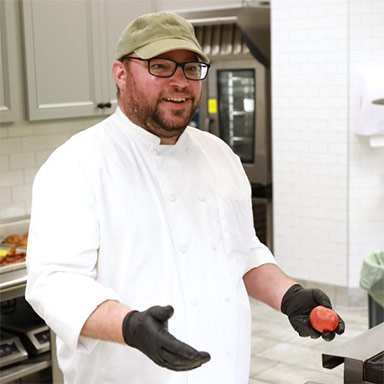 Phil Tate - Sous Chef
Sous Chef
Phil has been involved in the food service industry since he was 15 years old and rode his bike to work at a local pizza shop. He has experience in cooking, and bar and kitchen management and has previously worked in several popular downtown Bloomington restaurants.

Bloomington has been home to Phil since 1997 and he considers the city a "great gem of the midwest". During his time away from work, he enjoys making pizza and BBQ at home.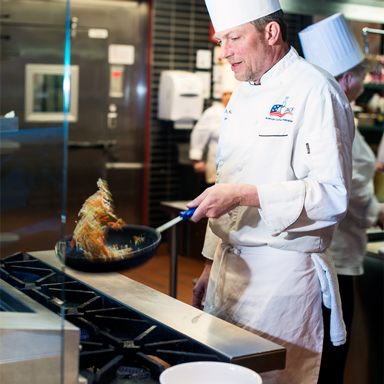 Chef Darren Worth - Chef de Cuisine
Certified Chef de Cuisine – Bookmarket and Goodbody Eateries; Certifications in Sanitation; Chef—The Eateries; Culinary Arts Instructor at Ivy Tech; Degree in Culinary Arts from Johnson and Wales University; Nutrition and Management; ServSafe Proctor/ Instructor
Darren began cooking at 14 years of age. At 17, he attended culinary school before working his first professional chef position at age 19. He has been teaching Culinary Arts for 13 years with a great deal of experience in classical French and international cuisine. He loves The Traveler and believes anything from both campus locations is always an excellent choice. Darren explains that IU Dining consistently works to cater to their customers' needs and are even willing to create off-menu items to fit a healthy lifestyle.