Our management team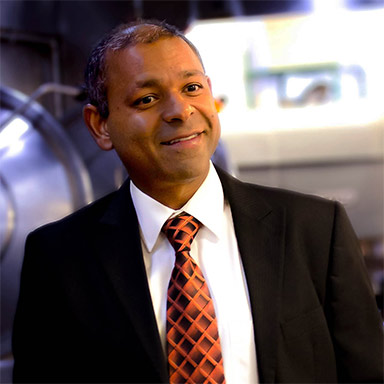 Rahul Shrivastav, Executive Director
Bachelor of business management, hospitality
With over two decades of dining and catering experience, Rahul loves working on a college campus because of the tremendous energy it brings. He is a large proponent of farm-to-table options and utilizing local vendors whenever possible to ensure meats and produce are as fresh and healthful as possible. Rahul encourages all students to actively engage in learning more about their food and where it is sourced.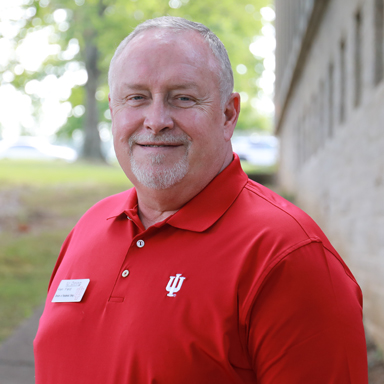 Kenneth Field, Director of Residential Dining
BS, Hotel and Restaurant Management, Purdue University; MBA, Krannert School of Management
Before joining IU Dining in 2021, Ken held leadership positions in university dining operations at Saint Joseph's College (Rensselaer, IN), Purdue University, Northwestern University, and Auxiliary Services at the University of North Carolina at Charlotte. Before transitioning to higher education, he worked in catering for Sheraton Hotels, Hyatt Hotels, and Yum! Brands.
As the director of residential operations, Ken says, "I understand the responsibilities for budgeting and accountability, effective training, and empowering my team to execute standards at a high level. A high volume kitchen needs oversight without micro-managing, attention to detail, and understand the key metrics for controlling inventory and production and labor costs."
Ken also enjoys working with the staff and students in daily operations. Originally from the Midwest, he and his wife are happy to return to this region of the country.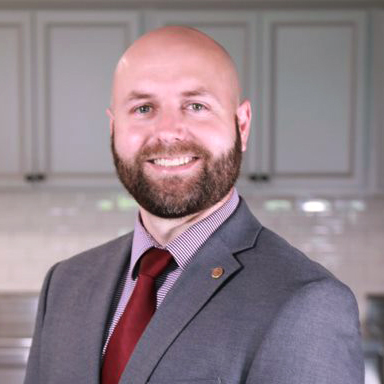 Drew Smith, Director of Retail Dining
Drew has worked with IU Dining since February 2004. He started as a student employee in the Ballantine Hall and Jordan Hall Cafes. Over the next several years he became an hourly supervisor, an assistant manager, a general manager, and an area manager within the department.
Drew received a Bachelor's Degree from the College of Arts & Sciences at Indiana University in December, 2009.
He has stayed with IU Dining, because every day brings a new challenge. Drew loves the atmosphere on campus and using student feedback to improve their dining experience. Outside of work Drew plays basketball at the Bill Garrett Fieldhouse.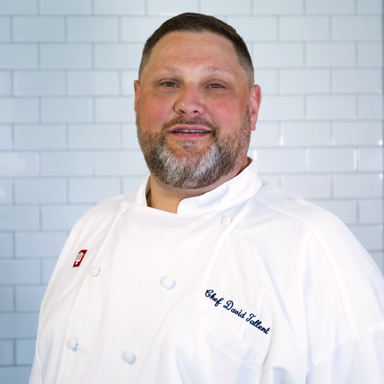 David Tallent, Executive Chef IU Dining
Culinary Institute of America; Nine James Beard Award Nominations
A native of Bloomington, Indiana and a former Indiana University student, David previously worked as a private caterer for Indiana University, leaving a positive impact on the campus. David obtained his studies at the Culinary Institute of America in New York. He worked at some of the finest restaurants in Atlanta and the James Beard House in New York before returning to Indiana to open Restaurant Tallent with his wife and fellow chef, Kristen. While in New York, David familiarized himself with the Slow Food Movement where he felt inspired to utilize local, organic, and seasonal ingredients.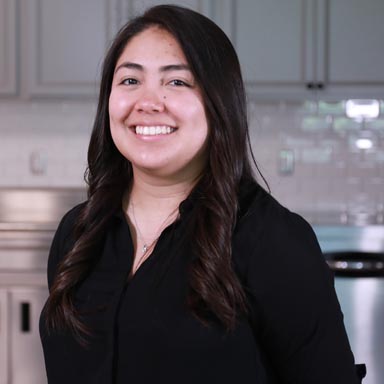 Aneli Carrillo, Acting Director of Catering
TBA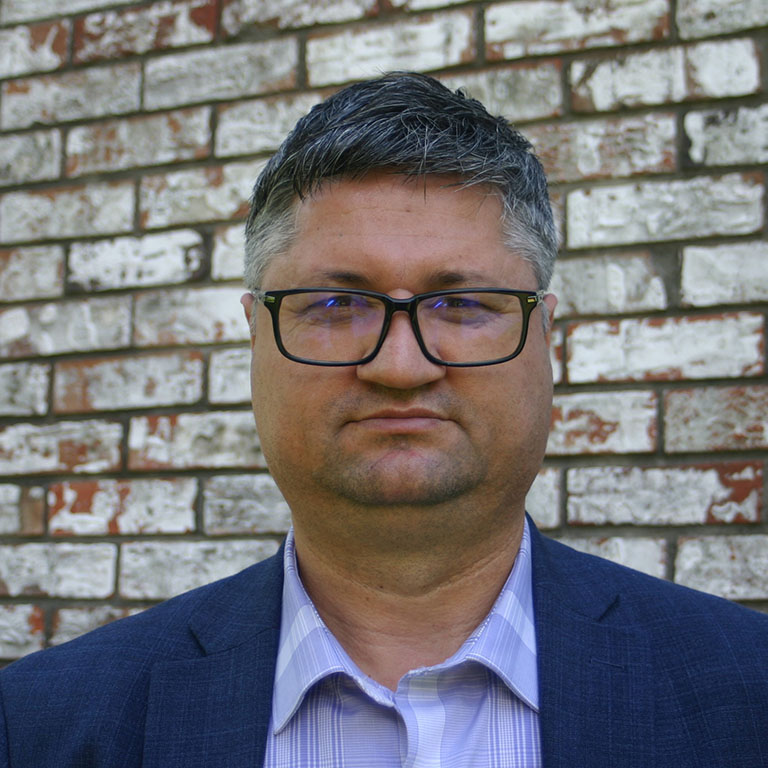 Islam Gashi, Manager of Systems Support
Islam has been with IU Dining since 2014, when he started as a Cook's Helper, being promoted after that to hourly supervisor, assistant manager, System Support Specialist, and now manager of the System Support Team.
Before IU Dining, he graduated Cum Laude from Indiana University with a Bachelor's degree and an Associates Degree in mathematics from the University of Prishtina in his native country, Kosovo. Islam held strategic positions with the Kosovo military forces, with the rank of Lieutenant-Colonel. In addition, Islam has several years of experience in budgeting and payroll processing, informatics, instructing math and English.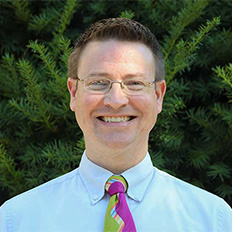 Micah Lamb, Training Coordinator
Micah has worked for IU Dining since 2006, as a part-time shift supervisor, assistant manager, and in his current role as training coordinator since 2014.
He came to training and development through a slightly circuitous route, with most of his previous educational background being in music. Since joining the department, Micah has completed an MBA and his interests include management theory and history and organizational development.
Micah is grateful for the opportunity to connect with staff through training, and for the privilege of being involved in staff development. Watching employees continually to grow their skills and careers as food service professionals is very rewarding.
Micah is proud of the service the department provides to students, staff and faculty. Some advice he is happy to share regarding training and development is that is important to never lose one's desire to continue learning.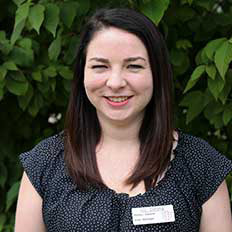 Ashley Massie, Area Manager for Residential Dining
Ashley has worked with Indiana University since 2015. Prior to her role as Area Manager, Ashley was the Pastry Chef de Cuisine for IU Dining. Ashley's innovative desserts and exceptional plate designs earned her an invitation to compete in Las Vegas at the CaterSource Rapid Recipe Challenge (2016) and the Diced Competition (2017) where she brought home the gold as Plated Dessert Champion!
Prior to her work at IU, Massie, who was originally from Bloomington, held various management positions in Pastry kitchens on the East Coast. The Omni Homestead in Virginia, The Taj Boston Hotel in Boston, and Cliff House Resort & Spa in Ogunquit, Maine were a few of her favorites.
In addition to her experience in kitchen management, Ashley also attended the prestigious Johnson & Wales University. Massie graduated magna cum laude in 2010 with an associate degree in applied science, baking and pastry and magna cum laude in 2011 with a bachelor's degree in baking and pastry. In 2022, Massie graduated magna cum laude with her Masters in Business Administration with a focus in hospitality. Massie also completed a Certificate in Hospitality from DCT Hospitality School in Vitznau, Switzerland.
Rachel Dolgner, Registered Dietitian
M.S., R.D., C.D.
Rachel has served as a Registered Dietitian with IU Dining since 2009. She received her Bachelors in Dietetics from Bluffton University in Ohio and her Masters in Food & Nutrition from Southern Illinois University. Rachel has interests in food allergy management and promotion of nutrition within the college population. She serves as a board member of the Indiana Academy of Nutrition & Dietetics and is active in the Southeast Indiana Academy of Nutrition. Rachel is a Master Trainer through AllerTrain by MenuTrinfo. Two tips she would share with any college student include to consider working for IU Dining no matter your major to gain customer service and food safety skills, and always be open to trying new foods and dishes.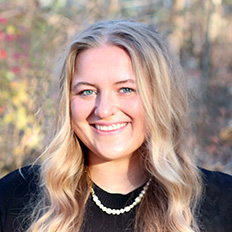 Lauren Trumbauer, Dietitian
Lauren previously worked as a nutrition intern for IU Dining before joining the department as a Registered Dietitian in 2022.
She received her Bachelor of Science in Dietetics from IU and will complete her Master of Science in Nutrition and Dietetics from Ball State University, May 2023.
Lauren enjoys this field because it allows her to work closely with people while continually learning and gaining new knowledge. She will share these tips with anyone: eat more fruits and vegetables and make food fun. Food is more than nutrients and nutrition; it brings people together and is meant to bring joy!